Be Involved!  Join a Committee
The Crestview Area Chamber has numerous opportunities for its members to be involved through its various committees.
Military Affairs Committee
Military Affairs Committee (MAC)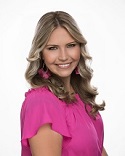 Chair: Hannah Wilburn
All In Credit Union
mac@crestviewchamber.com
The Military Affairs Committee (MAC) of the Crestview Area Chamber of Commerce has earned an outstanding reputation for supporting our military members and issues throughout Okaloosa County. The relationships that we have forged strengthen the ties between the civilian and military communities. The Crestview area has become 'home' both temporarily and permanently to many of our military friends.
For their support and contribution, MAC members enjoy the opportunity to attend many military events such as change of command, retirement ceremonies, base tours, civic leader dinners, and educational programs.  Many of our past and current members have also have the privilege of a year's tour as an Honorary Squadron Commander.
This is an elite Committee that requires a $100 annual fee in addition to regular membership dues. If you are interested in joining, please contact Hannah Wilburn at mac@crestviewchamber.com
Foy Shaw Memorial Scholarship Committee
Health & Wellness Committee